New Era 9fifty Snap backs and 59fifty Caps – What's the Difference?
The New Era Cap Company has been making quality athletic caps since 1920. The company is the official cap supplier of Major League Baseball. You can find caps for all your favorite MLB teams, not to mention various Minor League Baseball teams. New Era also makes caps featuring all the National Football League and National Basketball Association teams. You can also find caps for your favorite college sports and association football clubs, among many others.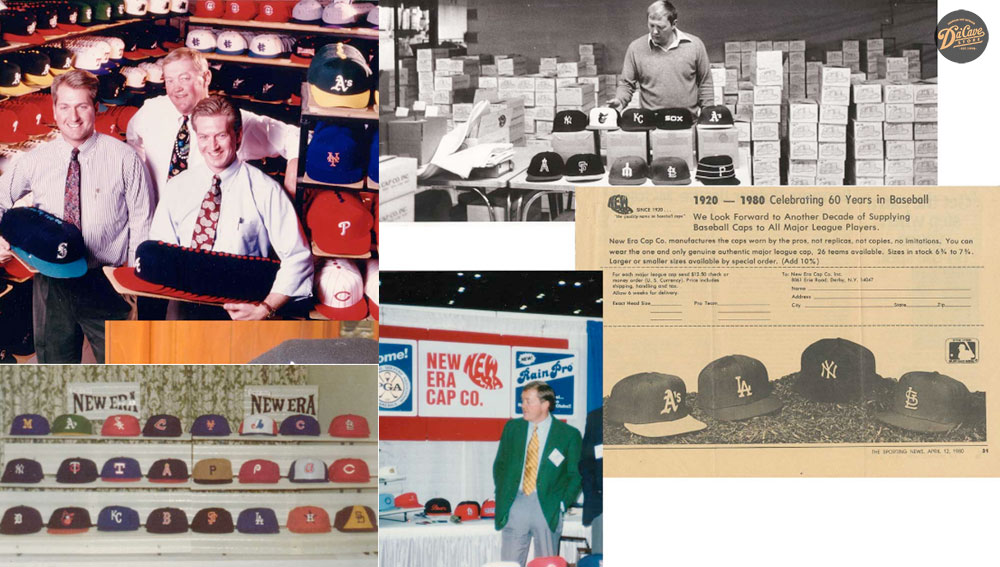 New Era also makes its hats in varying forms. Two of the most popular styles you can find are the 9fifty snapback and 59fifty cap. You can find caps with your favorite teams in either of these styles.
But what makes the 9fifty and 59fifty caps different from one another? Let's look at how these two differ. 9fifty snapbacks and 59fity caps come with varying features and numerous sizes. But no matter what you choose, you'll find a hat that will make you stand out.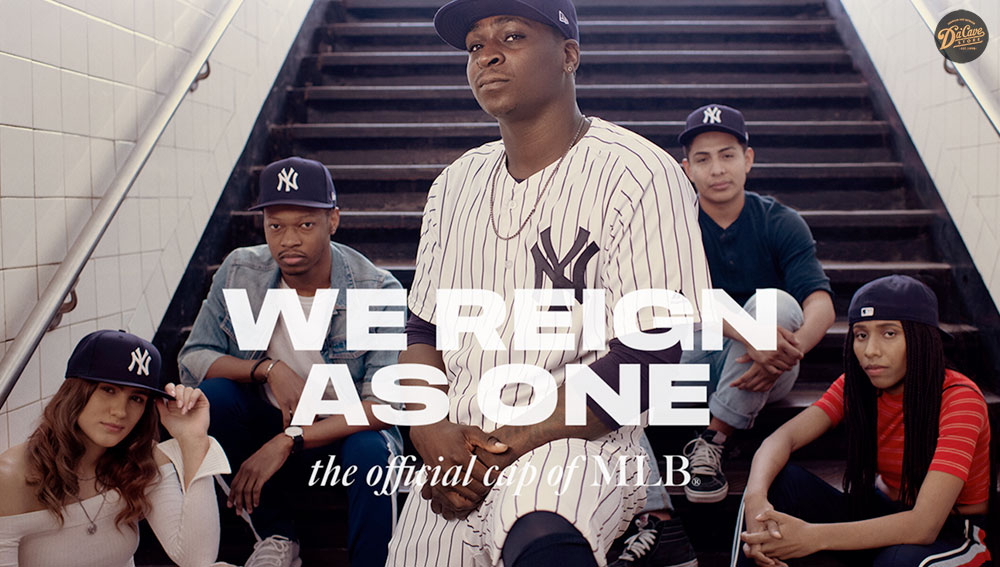 59fifty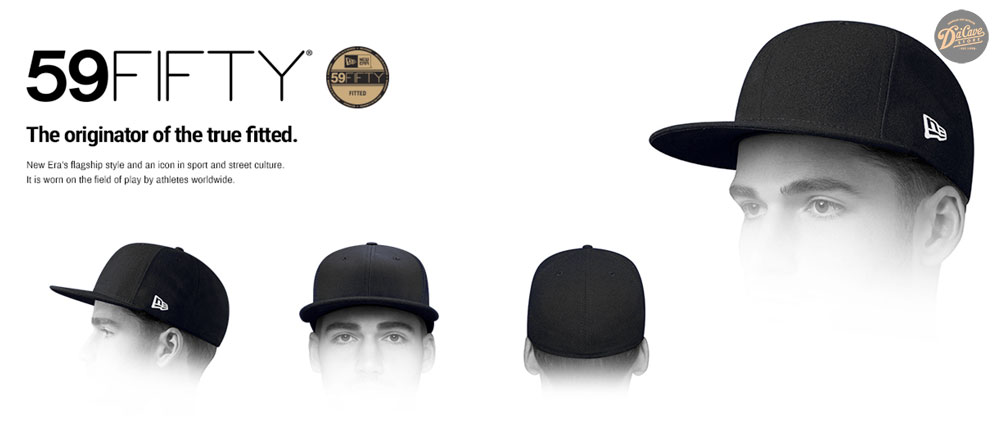 Let's first look at the 59fifty cap. The best way to describe this style is that it is a fitted cap.
The 59fifty cap will fit on one's head without having to be adjusted. But you would have to look at the size of your hat before you buy it. You must ensure the size fits your head well enough without coming off or being tight.
59fifty caps have been a staple of New Era's line of hats since 1954. Owner Harold Koch named the 59fifty cap after the roll of fabric used in producing the original design. But it wouldn't be until 1978 when New Era would make these 59fifty caps available to the public. Since then, the hat has become available in various logos, colors, and other designs.
The back closes off to produce an anchored fit. The design secures the hat's fit on your head. The full-body completes the look and makes the hat's base color visible on all sides.
The Basic Layout
The layout of the 59fifty cap features a reinforced front panel. The added materials in the front produce a rigid body. The design supports the cap's shape and keeps the front from bending or wearing.
The top or crown portion of the cap has a slightly flat appearance. The profile produces a consistent body. You'll also notice a few vents on the top part to keep the heat around the head from being too intense while wearing the cap.
The brim has a flat layout. You can curve the brim after a while if you prefer. But most people tend to keep the brims flat. That design looks closer to what professional baseball players wear.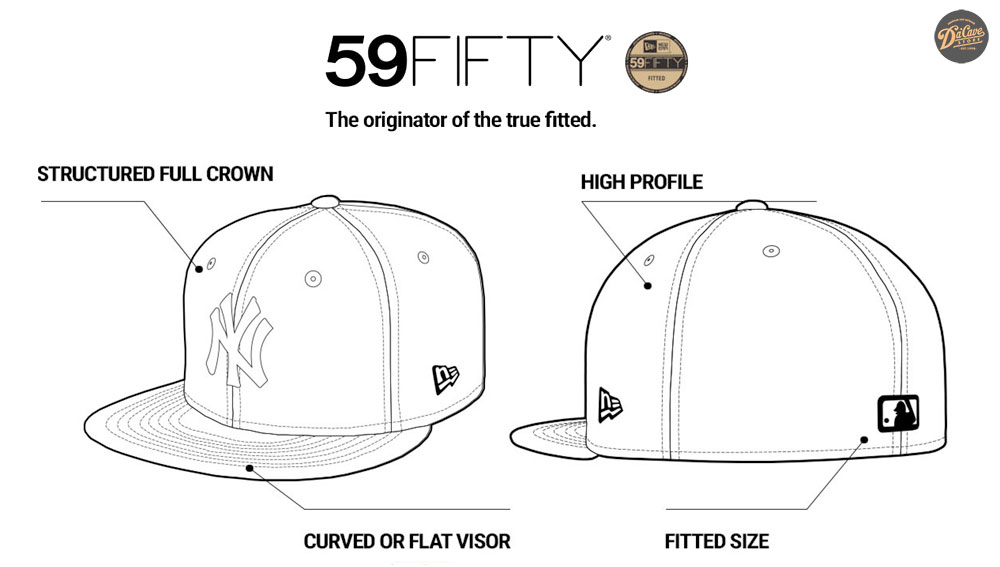 High and Low Profiles
One thing to note about 595fifty caps involves the profile. The traditional 59fifty cap features a raised profile. But you can also order a 59fifty fitted cap with a low profile.
The low-profile version of the hat features a slightly contoured crown. The crown is rounded to produce a flowing look. The design is ideal for people who want to get a 59fifty hat but are finding that the traditional profile doesn't fit as well as one hoped. The fit feels a little looser, so you'll have to find a smaller size when ordering one with a low profile.
Sizing Standard
You'll have to look at the size of your 59fifty cap before finding something of use. The fitted cap is available in twelve sizes from 6 7/8 to 8 1/4. You'll need to choose your hat based on your head size.
The head size is a measurement of your head's circumference. You can review this by taking a soft tape measure and wrapping it around your head. You must place the tape measure about an inch above your eyebrows and right over your ears for the best result.
You can then figure out the appropriate size of your fitted cap based on the measurement. If your head size is 56.5 centimeters, you should get a 7 1/8 cap good for people whose head sizes are up to 56.8 cm. Meanwhile, someone with a head at 62.5 cm would need a 7 7/8 hat.
You'll need to go one size under for a low profile 59fifty hat. The low profile model is slightly larger than the traditional one. If you wear a 7 5/8 59fifty cap with a standard profile, you'll need a 7 1/2 low profile hat.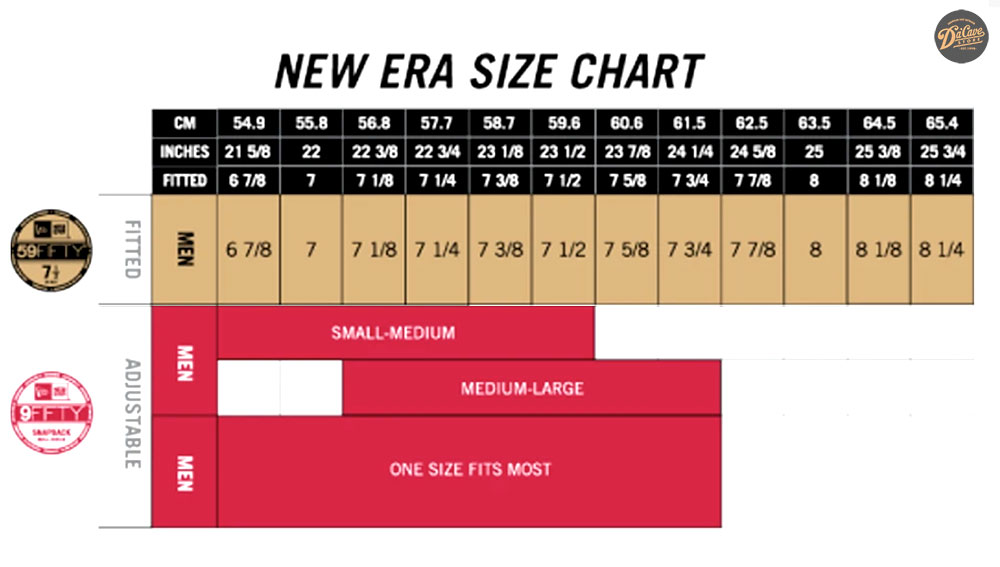 You can also find 59fifty hats for kids. The five kids sizes go from 48.2 to 53.9 cm. The 6 or 48.2 cm size is for infants and toddlers. The 6 3/8 or 51.1 cm and up sizes are for older kids.
9fifty
The other hat to look at is the 9fifty snap back hat. The design of this cap is different, as it is a snap back cap. The layout is a little more casual, but it adds a good look.
The design of the 9fifty cap features an open back area. The open spot features a plastic snap back closure. The layout uses a few pegs on one end. The other part has holes that secure the pegs. You can adjust the cap's fit in one of seven positions.
Some 9fifty models come with strapback designs. The cap uses the same open back, but it features a cloth-based strap that you would adjust. The strap will go through a buckle that would keep the part in its place. The strap body should fit in with the rest of the hat, or at least have a similar color.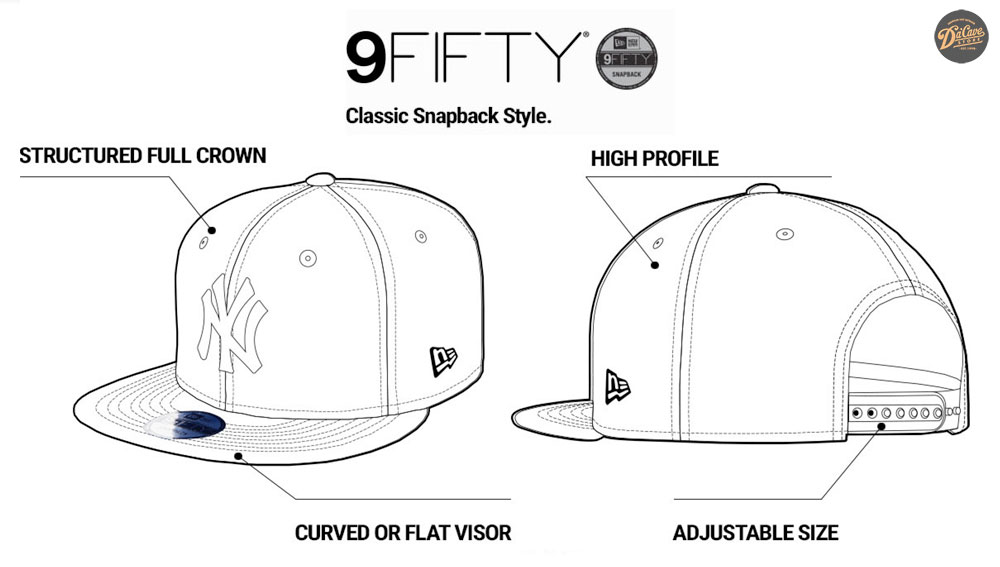 The Arrangement
The layout of the 9fifty snapback cap is similar to what New Era uses for its 59fifty model. The hat uses a structured body with the same reinforced front panel. The full crown produces a tall profile similar to what the 59fifty features.
The visor is also flat. You can curve the visor if you wish.
The plastic snapback feature or the strap design may feature the same color as the rest of the hat. A secondary color may also appear on the fastener, although the layout varies.
Sizing Points
While this New Era snapback cap features an adjustable layout, this doesn't mean one size will fit everyone. You have to watch for the size you order based on your head size.
9fifty snapbacks are available in multiple sizes. These sizes are measured based on your head size, as mentioned earlier:
Small – Medium: 54.9 to 59.6 cmMedium – Large: 56.8 to 61.5 cmLarge – Extra Large: 60.6 to 65.4 cmOne Size Fits Most: 55.8 to 60.6 cmYouth: 51.1 to 53.9 cmWomens: 54.9 to 59.6 cm
The most important consideration here is that just because some 9fifty hats say "one size fits most" doesn't mean that they're going to work for everyone. Also, one of these "one size fits most" hats would be likely to feature a strapback design instead of a snapback layout.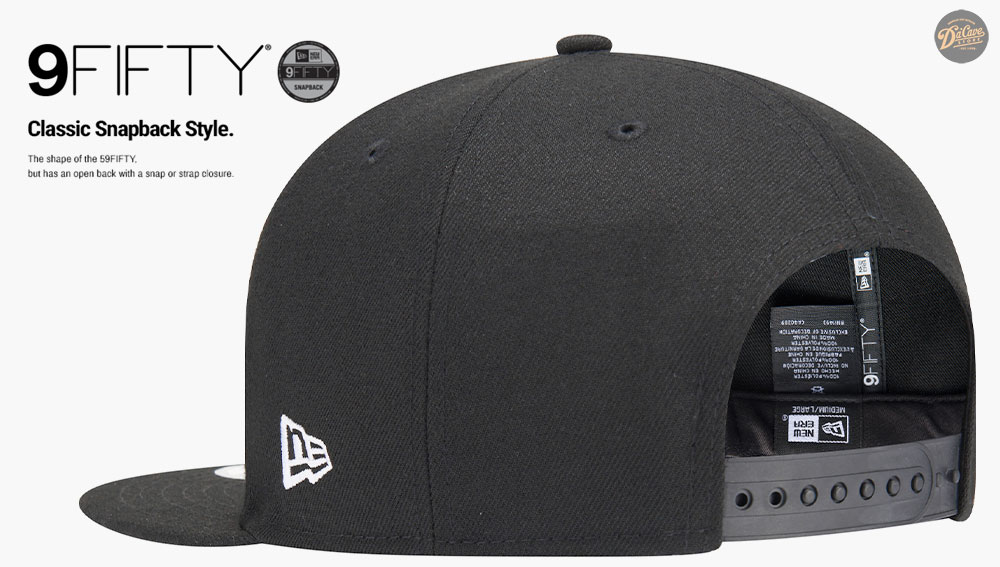 Which Is the Better Choice?
The New Era 59fifty and 9fifty caps are both useful and fashionable. But it's up to you to figure out what you prefer. Your comfort will be essential when thinking about what you wish to wear.
When 59fifty Caps Are Best
A 59fifty cap is ideal if you're looking for something authentic. The design is the same as what you'll find on the professional baseball diamond.
You will also enjoy a 59fifty cap if you want something that feels more custom-made for you. Since the design is fitted, you'll appreciate how well the hat feels.
It's also a good idea to have a 59fifty hat if you don't plan on changing your hairstyle anytime soon. Since the cap is fitted, there's a potential it might not fit if your hair gets too long. The closed-back body makes it harder for you to move your hair out as well. Take a look at your hairstyle to see if it can fit in with a 59fifty cap.
When 9fifty Snapbacks Are Better
You could also get a 9fifty cap if you need something that allows more air to move around your head. The open-back design of the 9fifty hat allows your head to breathe a little more. You can also adjust the fit to make it easier to wear.
A 9fifty cap is also useful for kids. Seeing how a child's head size can gradually increase over the years, it helps to have something that a kid can adjust as necessary.
Either way, it is up to you to figure out what fits best for your fashion or style needs. Both of these New Era models are stylish and add a great touch, but you have to look at what you're finding.
One Last Note About the Sticker
The last thing to see about these two New Era caps is that they both have different sticker designs. Some people prefer to keep these stickers on their hats, specifically on the tops of the visors. Others might remove those stickers and place them on different things. A 59fifty cap features a gold-tinted sticker alongside the size number. A 9fifty cap sticker has a silver design.
Hope this helps anyone who's confused about the models offered by New Era. We also explain the difference between the 9forty and 9twenty New Era cap models.
Do check out Dacave store Singapore for all your cap needs. We have been the authorized New Era Cap retailer in Singapore since 2005. We are open daily 1-9pm. Te: 64713751